'CRM…R.I.P.' Workshop
Academy of Marketing's Special Interest Group (SIG) in Customer Relationship Management and Services Marketing
Teddington, October 2013
The abundance of digitally-sourced data and the development of ever more sophisticated software allows organisations to monitor customer behaviours at increasing levels of granularity. It is, thus, pertinent to ask whether there is a future for Customer Relationship Management and, if yes, what shape it might take.

The Academy of Marketing's Special Interest Group (SIG) in Customer Relationship Management and Services Marketing has organised a workshop bringing together experts from the industry and academia to discuss the role of Customer Relationship Management in an increasingly digitalised commercial environment. The event focuses on cutting edge applications of customer insight technology and practice, and will instigate critical discussions of the impact of these developments for the conceptualisation and management of customer relationships. This initiative will form the basis for further research efforts and networking activities, within SIG members and beyond.


Link:
http://www.academyofmarketing.org/services-crm-sig/

Organiser:
Dr Ana Canhoto, Oxford Brookes University.

Community determined group titles:
RED: The Bigger Picture
YELLOW: The Subconscious and Emotional Side of Marketing
BLUE: Back to Basics Business Strategy
PURPLE: Understanding the Importance of Context
GREEN: Talent Demand Outstrips Supply
ORANGE: Collaboration


Meeting Groups
The research groups, as determined by the attendees' sorting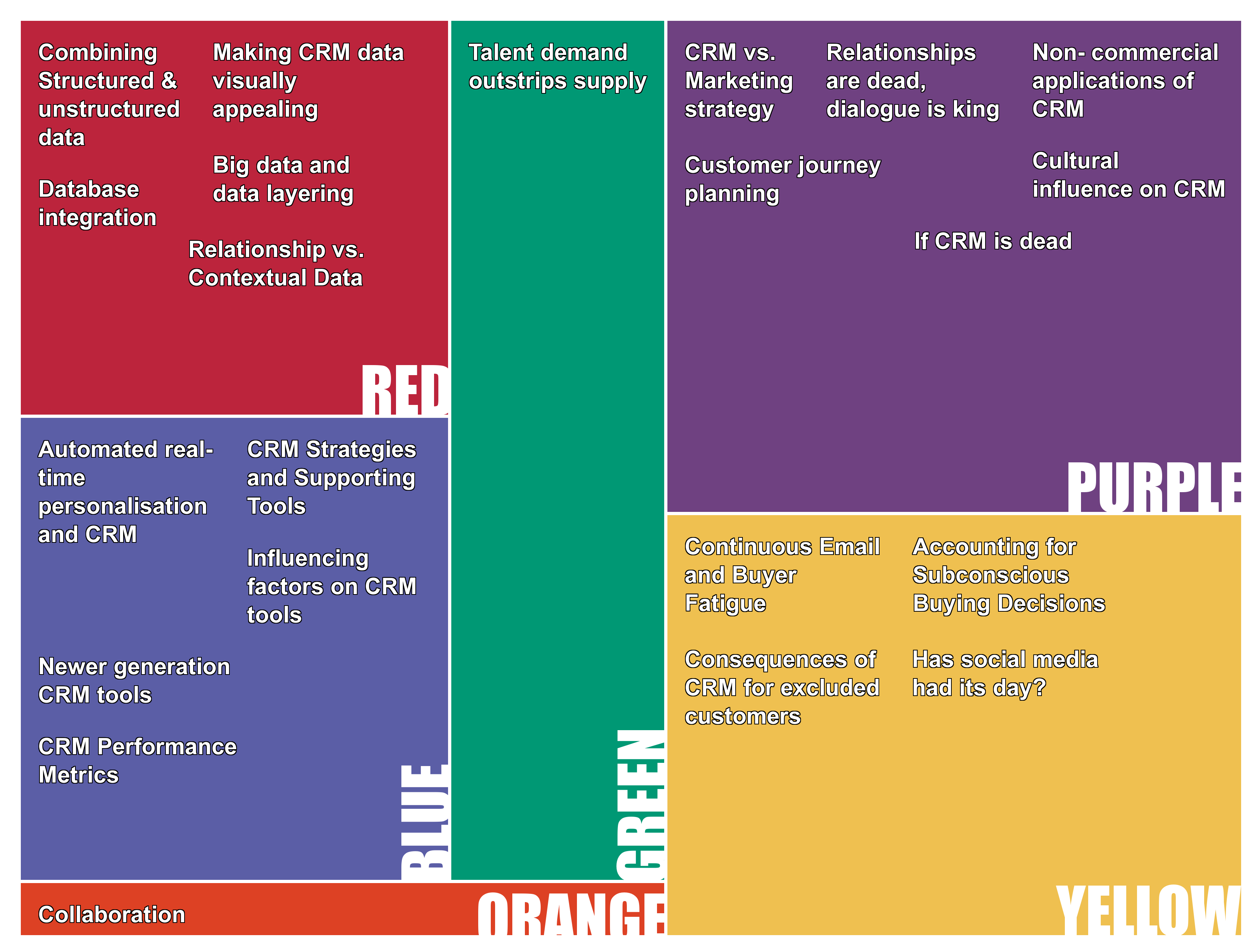 Group Colour
Group Members
Description
Red
Big data and data layering
What do the panel see as the issues around data layering and the impact on decision making when using third party data?
Database integration
What are the ethical and societal challenges of integrating ever more social data into marketing practices?
Making CRM data visually appealing
How can Big data visualisation be made practically useful for CRM use
Combining Structured & unstructured data
How to make true sense of 'big data' from a marketing CRM perspective
Relationship vs. Contextual Data
To what extent does modern CRM depend upon knowing the history of the customer (relationship data), as opposed to the current location, needs and device of the customer (contextual data)?
Blue
Newer generation CRM tools
Are there CRM or newer generation tools economically available to a business of our size?
CRM Strategies and Supporting Tools
Consumer data plays a significant role in consumer relationship management; I am interested in the strategies that organisations adopt for establishing effective customer services. I am also interested in the types of analytic tools (CRM applications, ...
Influencing factors on CRM tools
What other factors might influence or moderate the importance of the CRM tool, both in the customers' and organisational perspectives?
Automated real-time personalisation and CRM
Can a correlation be made between website automated real-time personalisation and an improvement in customer relationship management?
CRM Performance Metrics
The latest metrics that measure the success of CRM performance in the marketplace. Profitability, Market share, Consumer acquisition costs, Conversion rates, Retention rates, Loyalty measures... anything else?
Green
Talent demand outstrips supply
How do we keep pace with demand and meet business needs in light of the widely reported issues with scale, quality, experience and mature resources and the exponential demand for analytics to underpin a consistent omni channel dialogue?
Orange
Collaboration
In what ways will collaboration or co-creation through social media shift marketing practices?
Purple
Non-commercial applications of CRM
How are CRM principles / systems / applications used in the non-commercial context - e.g., governments or charities?
If CRM is dead
If CRM in its current guise is dead what form will it take in its re-incarnation and how should businesses adapt?
CRM vs. Marketing strategy
At what point does 'CRM' strategy become indistinguishable from 'marketing' strategy?
Cultural influence on CRM
How does national culture influence the focus (organisation) and acceptance (Customer) of CRM?
Customer journey planning
How should we present the difference between mapping customer lifecycles in order to serve marketing goals and mapping customer lifecycles in order to represent the customer's life?
Relationships are dead, dialogue is king
What is the appropriate strategy and execution model to cope with a consistent Customer dialogue that is not driven by a relationship but a chosen interaction at any location and point in time?
Yellow
Continuous Email and Buyer Fatigue
Whilst we have reasonable web sites, SEO and PPC and use email campaigns regularly, is there buyer fatigue at continuous email solicitation and, if so, how is it best overcome?
Consequences of CRM for excluded customers
Is there a self-fulfilling effect in CRM whereby customers that are deemed to be less valuable by firms, are given less attention or rewards and, therefore, reduce their spending?
Accounting for Subconscious Buying Decisions
Neuroscience: Research suggests that 80% of a buying decision is done subconsciously. How do marketers ensure that they are employing methods to take this into account and not only focusing on transactional data captured in CRM systems?
Has social media had its day?
Have social media had their day, in terms of importance in CRM?
Meeting Pictures
Photos of the attendees and breakout groups